With our curiosity piqued, we scoured the Internet for the craziest cruise ship concept art we could find. Some designs are plausible; others are a long way off, and some are borderline absurd — but they all make us eager to book a cruise in 2060.
1. Sleek and Sexy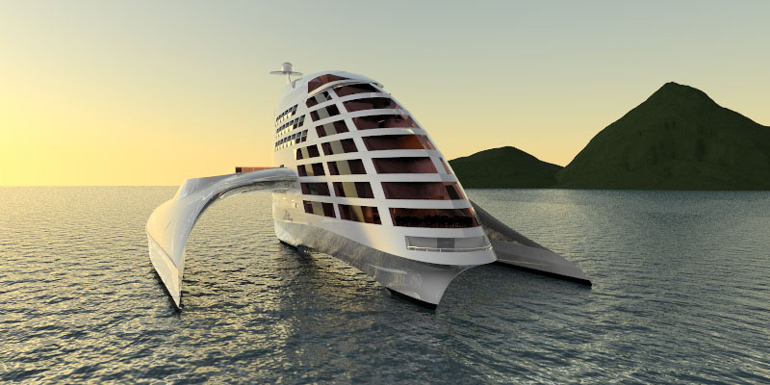 If someone said this ship could fly, we would probably believe them.
We're not sure if this is a cruise ship or a mega-yacht, but we sure want to sail on it. There may not be much open deck space, but this ship looks like it travels between ports so fast you could go to sleep in Cozumel and wake up in St. Thomas.
2. The Floating Island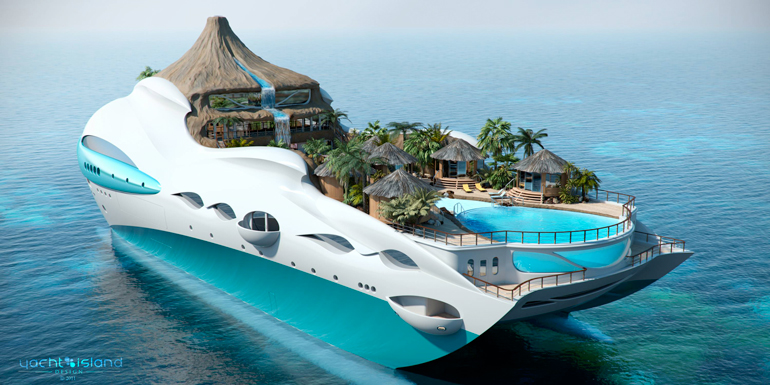 The new definition of luxury at sea. - Photo by Yacht Island Design
Can't decide between a cruise and an island resort? With the Tropical Island Paradise by Yacht Island Design, you can have both. The lido deck is rather small, but the huts and palm trees are a classy touch. And it's impossible not to be excited about the infinity pool on the bow.
3. The City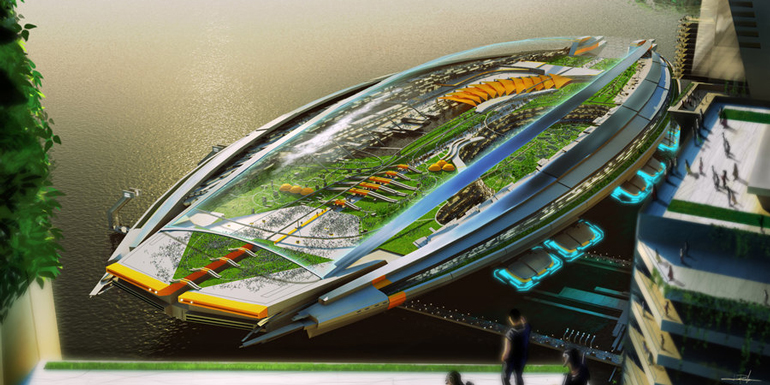 They could fit a runway on this ship and do away with airport transfers entirely. - Photo by GriffinIncorporated
Think Royal Caribbean's Central Park concept is impressive? This floating city, appropriately dubbed "Atlantis II," looks like it's trying to rival the size of Central Park itself. Open space is clearly not an issue with this design, since the ship appears to be one massive lido deck.
4. The Shark Fin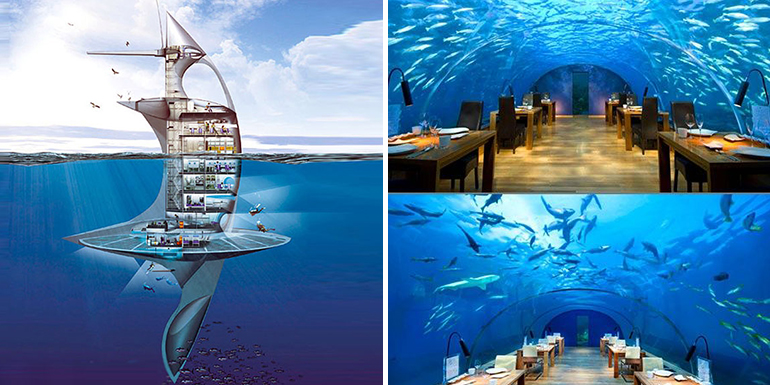 If The SeaOrbiter (left) were to be adapted for cruise purposes, underwater dining would be a must. - Photo by Jacques Rougerie
There's always something to be said for great views from a balcony, but how amazing would it be to look out your porthole and see a coral reef or a school of fish? What makes this design unlikely is that destination ports would have to be completely redesigned to accommodate a ship that extends this far underwater. At the moment, designer Jacques Rougerie intends for "The SeaOrbiter" to be a research lab, but we cruisers will be keeping our fingers crossed for a commercial version.
5.The Submarine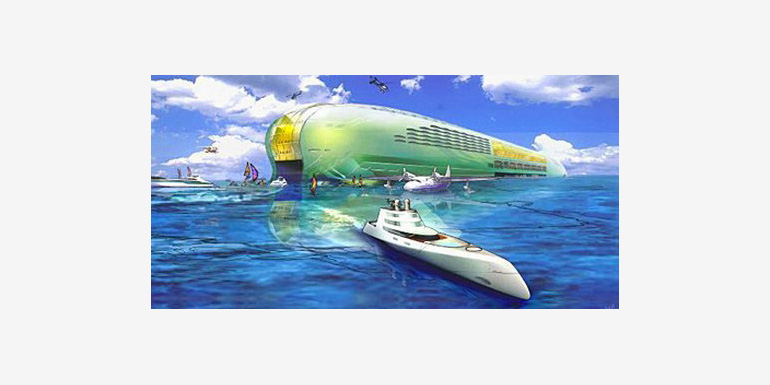 Do the helicopters and planes mean there's a landing strip on top?
OK, maybe it's not necessarily designed to go underwater, but we love the prospect of taking a private boat out for a spin on sea days. As strange as this "ship" looks, some of its features already exist: The bow appears to be one giant observation deck like Quantum of the Seas' Two70 lounge, and some lines — like Seabourn Cruise Line and Paul Gauguin Cruises — already have water sports platforms for kayaks, personal watercrafts, and water-skiing.
6. The Skyscraper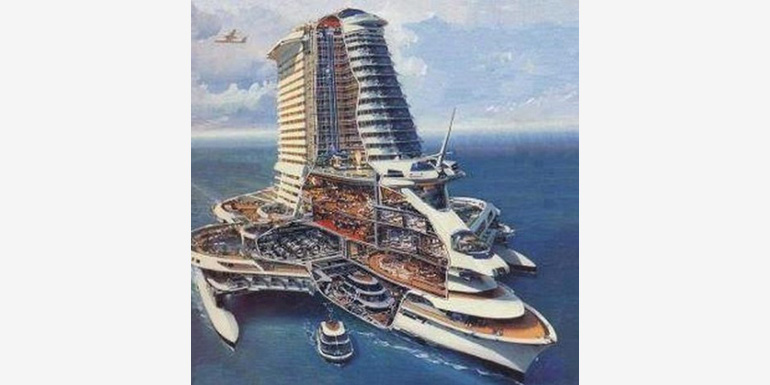 We've heard cruise ships called "floating hotels" before, but this is a lot more literal than anything we've seen.
It may look like the seafaring version of a tacky Vegas resort, but we're not ashamed to admit that we would book the first sailing available. Our biggest complaint? Limited open space means these ships won't have the most impressive lido decks.
7. The Horseshoe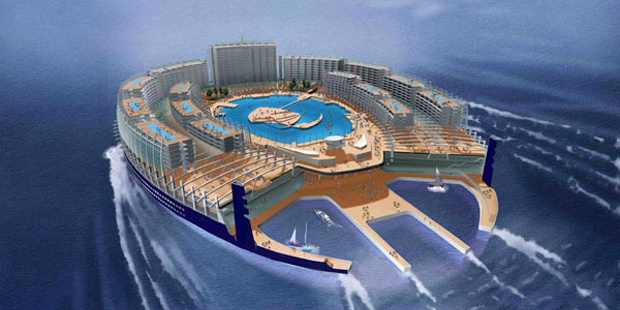 With this design, every day is a port day.
This design doesn't look very hydrodynamic — or aesthetically pleasing, for that matter — but if they did manage to make it float, this "ship" would have the largest pool in cruising, plus a boat launch in the aft.
8. The Boomerang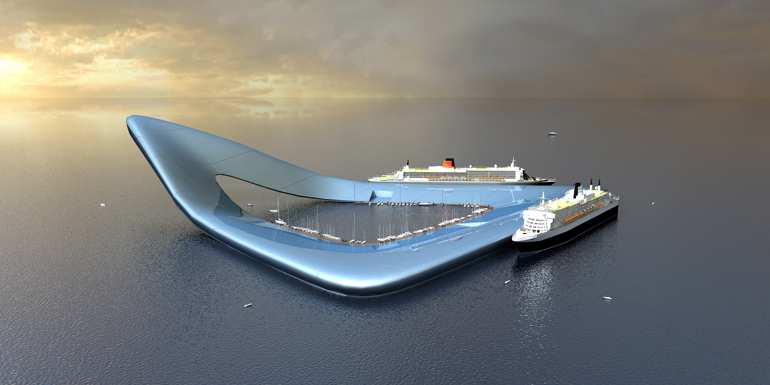 The strange bend gives smaller ships access to an interior dock.- Photo by Ken Oltheius
With space for three large ships and 5 million square feet of shopping, dining, and entertainment, this terminal-resort hybrid could be the new private island of the cruise industry. Designer Ken Oltheius dreamed up the Floating Ship Terminal as a series of sustainable aquatic structures, and lined the terminal with photovoltaic cells to give the structure its own power supply.
9. The Lilypad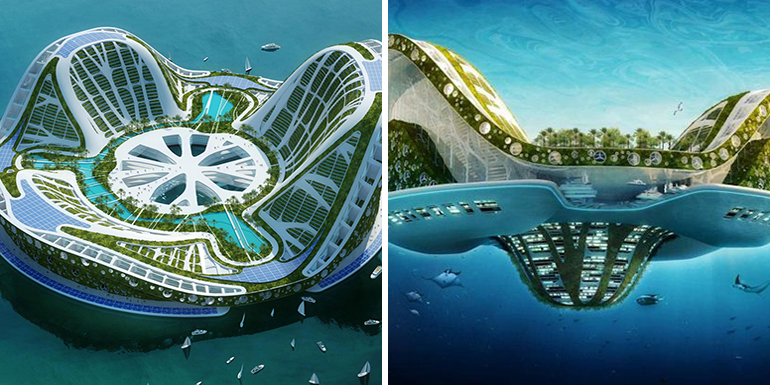 Taking a stroll throught this floating behemoth should be on every cruiser's bucket list. - Photo by Vincent Callebut
Think a ship with 5,000 passengers feels like a floating city? How about one with 50,000? Green architect Vincent Callebaut designed the Lilypad as a solution to global warming and rising sea levels. It looks as if every available inch of the ship — including the walls — has been covered with greenery, giving it the nickname a "floating ecopolis." It's not a cruise ship per se, since it would float freely on the ocean's currents, but it would be an amazing opportunity for die-hard cruisers to make their dream of life on the high seas a reality.
You might also like: